Progressive muscle relaxation using video aids reduces blood pressure of hypertension patients
Ridawati Sulaeman

Health Polytechnic of Mataram, Mataram, Indonesia

- Muhasidah

Health Polytechnic of Makassar, Makassar, Indonesia

Dewi Purnamawati

Health Polytechnic of Mataram, Mataram, Indonesia

- Zulkifli

Health Polytechnic of Mataram, Mataram, Indonesia

Sitti Rusdianah Jafar

Health Polytechnic of Mataram, Mataram, Indonesia

I Putu Suiraoka

Health Polytechnic of Denpasar, Denpasar, Indonesia
Keywords:
Blood pressure, Hypertension patient, Progressive muscle relaxation, Reduce stress, Video aids reduce
Abstract
Progressive muscle relaxation using video is used hypertensive patients to conduct movement activities to reduce stress. Therefore, the muscles of the body are relax. Hypertension or high blood pressure is still a serious threat that affects the productivity of a person's life in NTB. The study was intended to determine the effectiveness of progressive muscle relaxation using video aids to reduce blood pressure in hypertension patients. This research was conducted in the Work Area of Dasan Agung Public Health Center, Mataram City in May to September 2017. Quasi-experimental design of pre and post-test control group. The number of respondents was 60 people consisting of 30 controls and 30 interventions for sampling Random Sampling. Data analysis using T-test.  The results showed there were differences of changing in blood pressure of respondents who were given progressive muscle relaxation using video aids compared to those who did not use. Conclusion Progressive muscle relaxation with video ads decreases blood pressure in hypertension patients compared to those who did not.
Downloads
Download data is not yet available.
References
Aalami, M., Jafarnejad, F., & ModarresGharavi, M. (2016). The effects of progressive muscular relaxation and breathing control technique on blood pressure during pregnancy. Iranian journal of nursing and midwifery research, 21(3), 331. https://www.ncbi.nlm.nih.gov/pmc/articles/PMC4857670/
Cheung, B. M., Au, T. H. Y., Chan, S. Y., Lam, C. M., Lau, S. H., Lee, R. P., ... & Tsang, H. H. (2005). The relationship between hypertension and anxiety or depression in Hong Kong Chinese. Experimental & Clinical Cardiology, 10(1), 21. https://www.ncbi.nlm.nih.gov/pmc/articles/PMC2716224/
Dendy, K., Wan, N.D., & Winda, L. (2012). Efektifitas Konsumsi Mentimun Terhadap Penurunan Tekanan darah Pada Pasien Hipertensi). Jurnal Ners Indonesia. 2(2)
Ekowati, R. & Sulistyowati, T. (2009). Prevalensi Hipertensi dan Determinannya di Indonesia. Majalah Kedokteran Indonesia. 59(12).
Hamarno, R. (2010). Pengaruh latihan relaksasi otot progresif terhadap penurunan tekanan darah klien hipertensi primer di kota Malang. Jakarta: Magister Ilmu Keperawatan Universitas Indonesia.
Hartono, L. A. (2007). Kesehatan Masyarakat Stres dan Stroke. Kanisius. https://books.google.co.id/books?hl=en&lr=&id=iqGBWJfeQ5oC&oi
Hasurungan, J. A. (2002). Faktor-faktor yang berhubungan dengan hipertensi pada lansia di Kota Depok tahun 2002 [Tesis]. Jakarta: Fakultas Kesehatan Masyarakat Universitas Indonesia.
Herawati, I., & Azizah, S. N. (2016). Effect of Progressive Muscle Relaxation Exercise to Decrease Blood Pressure for Patients With Primary Hypertension. https://publikasiilmiah.ums.ac.id/xmlui/handle/11617/7430
Jacobson, E. (1938). Progressive relaxation. http://psycnet.apa.org/record/1938-04698-000
Kaplan, N. M. (2005). Resistant hypertension. Journal of hypertension, 23(8), 1441-1444. https://journals.lww.com/jhypertension/Abstract/2005/08000/Resistant_hypertension.1.aspx
Kasron, K., & Susilawati, S. (2017). The Effect Of Progressive Muscle Relaxation On Sleep Quality In Patients With Hypertension In South Cilacap City. Nurscope: Jurnal Penelitian dan Pemikiran Ilmiah Keperawatan, 3(2), 20-28. http://lppm-unissula.com/jurnal.unissula.ac.id/index.php/jnm/article/view/2268
Kesoema, T. A., Chasani, S., & Handoyo, R. (2016). Comparison Between Taichi Chuan and Jacobson's Progressive Muscular Relaxation in Decreasing Cortisol Concentration on Pre-Hypertension Patients. Jurnal Kesehatan Masyarakat, 12(1). https://media.neliti.com/media/publications/143870-EN-comparison-between-taichi-chuan-and-jaco.pdf
Maghfirah, S., Sudiana, I. K., & Widyawati, I. Y. (2015). Relaksasi Otot Progresif terhadap Stres Psikologis dan Perilaku Perawatan Diri Pasien Diabetes Mellitus Tipe 2. Jurnal Kesehatan Masyarakat, 10(2), 137-146. https://media.neliti.com/media/publications/25443-ID-relaksasi-otot-progresif-terhadap-stres-psikologis-dan-perilaku-perawatan-diri-p.pdf
Mubarok, W.I. (2009). Sosiologi Untuk Keperawatan Pengantar dan Teori. Jakarta: Salemba Medika.
Muttaqin, A. (2009). Pengantar Asuhan Keperawatan Dgn Gangguan Sistem Persarafan. Penerbit Salemba. https://books.google.co.id/books?hl=en&lr=&id=LhzANK2oLfoC&oi
Nasihah, O. S. (2012). Pengaruh Relaksasi Progresif terhadap Perubahan Tekanan Darah pada Lansia Penderita Hipertensi di Posyandu Lansia Desa Sindutan Temon Kulon Progo(Doctoral dissertation, STIKES'Aisyiyah Yogyakarta). http://digilib.unisayogya.ac.id/855/
Nurfathiyah, F., Mara, A., Siata, R., & Farida, A. (2011). Pemanfaatan Video Sebagai Media Penyebaran Inovasi Pertanian. Jurnal Pengabdian Pada Masyarakat, 12(52). https://online-journal.unja.ac.id/index.php/jlpm/article/view/92
Prasetyaningrum, Y. I., & Gz, S. (2014). Hipertensi bukan untuk ditakuti. FMedia. https://books.google.co.id/books?hl=en&lr=&id=8uluBgAAQBAJ&oi
Purwanto, B. (2013). Herbal dan Keperawatan Komplementer. Yogyakarta: Nuha Medika.
Qiu, C., Williams, M. A., Leisenring, W. M., Sorensen, T. K., Frederick, I. O., Dempsey, J. C., & Luthy, D. A. (2003). Family history of hypertension and type 2 diabetes in relation to preeclampsia risk. Hypertension, 41(3), 408-413. https://pdfs.semanticscholar.org/1df3/c089d9b22defcfa1b07f54a1135dc62c80b1.pdf
Ramdhani, S., & Barker, N. P. (2009). Rampant non-monophyly of species in Kniphofia Moench (Asphodelaceae) suggests a recent Afromontane radiation. Taxon, 58(4), 1141-1152. https://www.ingentaconnect.com/content/iapt/tax/2009/00000058/00000004/art00008
Sheps, S. G. (2005). Mayo clinic hipertensi, mengatasi tekanan darah tinggi. Jakarta: PT Intisari Mediatama, 26, 158.
Sugiharto, A. (2007). Faktor-faktor risiko hipertensi grade II pada masyarakat (studi kasus di kabupaten Karanganyar)(Doctoral dissertation, program Pascasarjana Universitas Diponegoro). http://eprints.undip.ac.id/16523/
Sugiyono. (2011). Statistik Untuk Penelitian. Bandung: Alfabeta.
Suiraoka, I. P., & Supariasa, I. D. N. (2012). Media Pendidikan Kesehatan. Yogyakarta: Penerbit Graha Ilmu.
Suwitri, N. P. E., & Sidiartha, I. G. L. (2018). Omega-6 and Omega-3 Fatty Acid Content and Ratio of Commercial Complementary Foods. International Journal of Health Sciences (IJHS), 2(1), 21-28. https://doi.org/10.29332/ijhs.v2n1.90
Wolpe, J. (1976). Behavior therapy and its malcontents—II. Multimodal eclecticism, cognitive exclusivism and "exposure" empiricism. Journal of Behavior Therapy and Experimental Psychiatry, 7(2), 109-116. https://doi.org/10.1016/0005-7916(76)90066-5
Yung, P., French, P., & Leung, B. (2001). Relaxation training as complementary therapy for mild hypertension control and the implications of evidence-based medicine. Complementary Therapies in Nursing and Midwifery, 7(2), 59-65. http://www.sld.cu/galerias/pdf/sitios/mednat/relaxation.pdf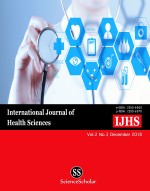 How to Cite
Sulaeman, R., Muhasidah, -, Purnamawati, D., Zulkifli, -, Jafar, S., & Suiraoka, I. (2018). Progressive muscle relaxation using video aids reduces blood pressure of hypertension patients. International Journal of Health Sciences, 2(3), 33-42. https://doi.org/10.29332/ijhs.v2n3.214
Articles published in the International Journal of Health Sciences (IJHS) are available under Creative Commons Attribution Non-Commercial No Derivatives Licence (CC BY-NC-ND 4.0). Authors retain copyright in their work and grant IJHS right of first publication under CC BY-NC-ND 4.0. Users have the right to read, download, copy, distribute, print, search, or link to the full texts of articles in this journal, and to use them for any other lawful purpose.
Articles published in IJHS can be copied, communicated and shared in their published form for non-commercial purposes provided full attribution is given to the author and the journal. Authors are able to enter into separate, additional contractual arrangements for the non-exclusive distribution of the journal's published version of the work (e.g., post it to an institutional repository or publish it in a book), with an acknowledgment of its initial publication in this journal.
This copyright notice applies to articles published in IJHS volumes 4 onwards. Please read about the copyright notices for previous volumes under Journal History.